Bed and Breakfast NJ
Travelers may opt for a bed and breakfast NJ stay for many different reasons. Bed and breakfasts are personal in nature, affording guests prime opportunities to socialize with each other and bond over shared and future traveling experiences. They are often situated in desirably quaint areas that provide a serene escape from the hustle and bustle of metropolitan areas. For guests traveling with a tighter budget, they are more likely to find cheaper accommodations than they could at a hotel or resort, but the sizing, scale of grandeur, and add-on amenities will create a range of prices. 
Spring Lake Inn Spring Lake
Self-described as a "European mansion by the sea," Spring Lake Inn is an elegant bed and breakfast NJ stay located a block away from the ocean and the non-commercial boardwalk. It is a Victorian-inspired setting in the midst of a quaint and scenic seashore town. Per their website, a few of their rooms were featured in an episode of  "Design Star." Spring Lake itself has countless things to do, including shopping, beach/boardwalk, activities, restaurants, and attractions. It is definitely worth at least an overnight stay, depending on how many things you wish to see and do in the town of Spring Lake.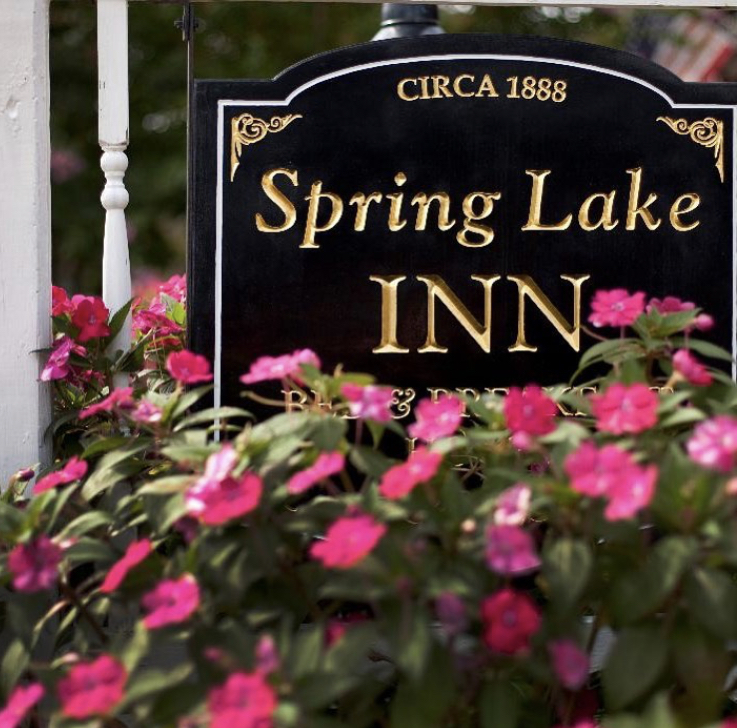 Pharos at the Harrison– Cape May
Located in Cape May, Pharos at the Harrison provides a wonderful Victorian aesthetic, which is quite fitting for a stay along the beautiful beach in this seaside town. Within the seven king and nine queen rooms, find modern amenities while enjoying the "uniquely and meticulously decorated" furnishings of each individual room. With gourmet teas and coffees at check-in, Pharos provides a gourmet breakfast every morning, where guests are invited to select from two entrees each day. Pharos's sister bed and breakfast property is called The Harrison, so check it out, as both are elegant and contemporary stays that will treat you right.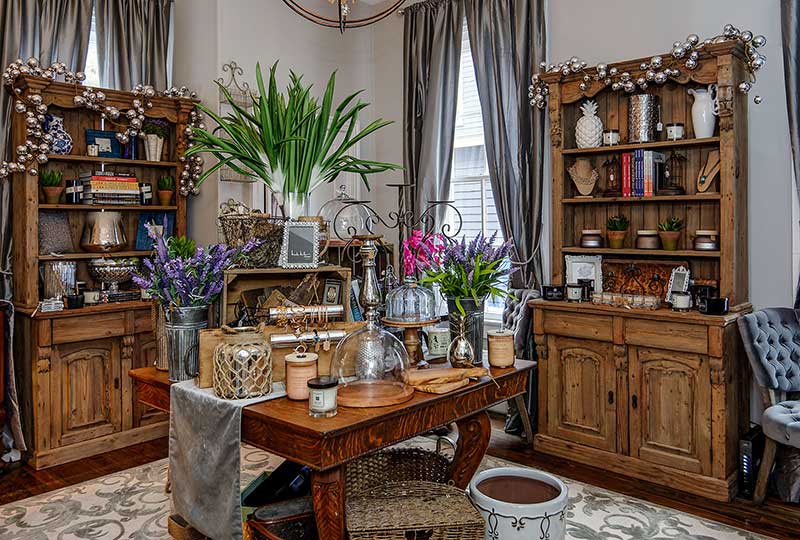 Fox and Bear Lodge– Glenwood
Nearby farmland and wetland reserves surround Fox and Bear Lodge bed and breakfast NJ stay, located in Glenwood. Featuring a wrap-around porch where guests can sip their morning coffee and views of the countryside, Fox & Bear Lodge also provides enjoyable common areas. They have eight lush guest rooms that guests may opt to upgrade and each stay provides continental breakfasts, where the food is made in-house or comes from less than 50 miles away. In the midst of the Pochuk Valley, Fox & Bear Lodge provides a scenic escape, where guests can peruse the many hiking trails and natural scenery right outdoors. This area is also conveniently located next to sunflower fields, breweries, and wineries, truly providing an outstanding stay no matter what season.
The Peacock Inn and the Perch Princeton
The Peacock Inn is technically a boutique hotel, but many of its features mirror that of a bed and breakfast. Besides, it is a superbly rated, grandiose stay, so what's not to love? The Peacock Inn embodies their name "peacock," as it is a symbol of "royalty, good food, and good luck." This 16-room hotel underwent three years of renovation in 2006 that transformed the space into one of modern luxury. Offering room options like the preferred queen, king, deluxe queen, junior and premier suites, all rooms are equipped with heated bathroom floors, a rain shower with a glass door, and flat-screen televisions. Of equal importance is The Perch restaurant, conveniently offering brunch, lunch, afternoon tea, and dinner of regional American fare. Choose from appetizers like the Seared Hudson Valley Foie Gras or the Lolla Rossa, ensembled from "community-driven produce and thoughtfully-sourced ingredients." Peacock Inn offers complimentary breakfast every morning from 7-10 am and the option to add-on "Afternoon Tea in the Garden" for $65 per person, featuring a delightful selection of savory and sweet, decadent treats, a "champagne experience," and a mix of herbal, green, white, and black teas.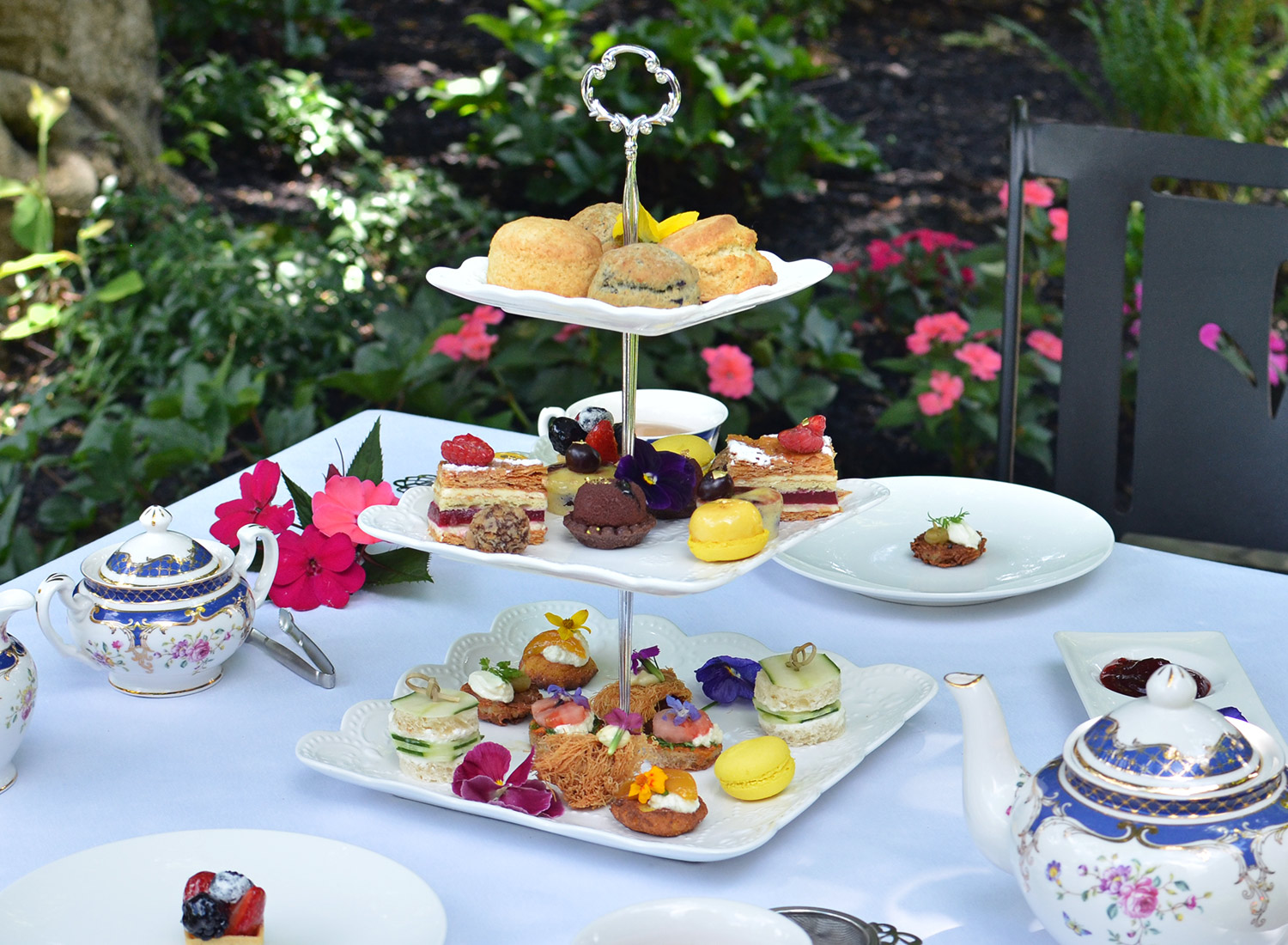 Woolverton Inn Stockton 
Located in Stockton New Jersey, Woolverton Inn is an elegant country bed and breakfast located near 300 acres of farmland and forest. A stay here includes a three-course gourmet breakfast that can be enjoyed in the dining room, on the veranda, on the outdoor patio, or ordered to the room in a breakfast tray. Afternoons at the Woolverton Inn consist of afternoon and evening refreshments like Belgian chocolate chip cookies and lemon blueberry biscotti, as well as drinks like mint-infused tea and lemonade or chocolate with homemade marshmallows. Choose between rooms located in the cottages, carriage house, and 1792 manor inn.  
Southern Mansion Cape May
Southern Mansion in Cape May warranted its naming rights due to being known as the premier destination for the "antebellum Southern gentry" in its youth. When a fire devastated the town of Cape May, this mansion was built and restored its Southern charm and hospitality. Pick from 25 rooms of varying sizes and rates upon your stay here, including the standard, deluxe, premier, superior, and master options. These rooms have a complete Victorian aesthetic and mixed with the grandeur of Southern hospitality, guests can relax into the luxurious breath of escape Cape May Provides. Make sure to check out Willow Creek Winery, Southern Mansion's very own 9,500 square foot villa for wine tasting that is renowned as a local favorite. 
The Wooden Duck Bed & Breakfast
Wooden Duck Bed & Breakfast is located over 14 acres of forestland and hills in Sussex County, providing the perfect scenic escape from busy metropolitan or suburban lives. Choose from one of seven rooms, all with private baths, sitting areas, workspaces, wifi, TVs, and fireplaces. Treat yourself to a three-course breakfast prepared fresh every morning that is served in the dining room. You may also choose to relax inside the indoor pool or outdoor sitting area, depending on the weather and your mood. 
The Castle at Skylands Manor– Ringwood
This grandiose castle is located amidst the sprawling acres of the New Jersey botanical gardens, providing the perfect scenic backdrop to explore and keep you busy during your stay. Skylands Manor is one of New Jersey's main destination wedding sites for a reason. With lawns, verandas, and stone terraces, the ambiance is set right for any kind of ceremony. Choose from one of the 54 rooms in the tudor revival mansion, which is said to have interior decor displaying "the late gothic to early Renaissance architectural styles." Check out this video that can be located on the homepage of their website to be immersed in the splendor of The Castle at Skylands Manor.
Wilbraham Mansion– Cape May
This historic high Victorian mansion built in the 1940s is the absolute perfect stay for someone looking to feel pampered and taken care of, with all the cute charm and hospitality of a classic bed and breakfast. Guests can opt to stay either at the Wilbraham Mansion or in the Wilbraham Suites, which offers Victorian décor with more modern features.  Choose from suite options offering all the very best of amenities and add-on features, including the jacuzzi in Room 9. At the Wilbraham mansion, guests can peruse the indoor heated pool and various common area porches and parlors. Each reservation includes breakfast and a splendid afternoon tea. Explore Cape May any time of the year– the town has a lot to offer, even in the seasons beyond the summer months. There are discounts on certain dates for the rooms, so make sure to plan ahead before booking!
Are you interested in learning more about other nearby New Jersey accommodations? Here are some of the most luxurious hotels in NJ that you'll just want to try.