Best Hiking Trails in NJ
New Jersey truly has some great hiking trails and beautiful, scenic nature- one just has to know where to look. The ability to hike can be contingent on many different factors, such as the ease/difficulty of the trail, the season in which you hike, the people who accompany you, and how prepared you are for different conditions such as rain, snow, sleet, ice, mud, etc. Fortunately, here at VUE, we've compiled a list of the best hiking trails in NJ that accommodate many different concerns and conditions, offering some options for beginner hikers who just want to have fun and experience nature and options for the more advanced adventurer to peruse the best hiking trails in NJ. 
Optimally, one would wish for sunshine and non-slippery conditions when they set out to hike, but New Jersey weather is not always so predictable. Be sure to check the trail conditions before embarking on your desired hike on the particular day you choose, and make sure that once you set out to hike these trails, you have a good pair of hiking boots to minimize accidents/ injury and ensure the best experience possible.
Easy trails
Sourlands Mountain Preserve: Somerset County
Sourlands Mountain Preserve loop trail spans 5.7-6.1 miles in total and is a peaceful retreat in the woods after a busy week. The hike is not too steep or too challenging and is perfect for an entire family trip plus dogs. While this hike does not provide any scenic views, the natural beauty of the trail is enough, as well as the interesting Devil's Half Acre boulder formation. For those needing a little break, there is a beautiful pond with a bench to sit on before the entrance of the trail. Bouldering is welcome at this location; one won't find any scrambling places here, however.
Goat Hill Overlook Trail: Hunterdon County 
Goat Hill Overlook Hike in Lambertville, NJ is a picturesque, short hike perfect for the whole family and kids of any age. Once arriving at the trail, you'll find two options: head up directly to the overlook, totaling one mile, or take a slightly longer route of 2.4 miles to visit two smaller overlooks before arriving at the main point. The view overlooks the Delaware River onto Lambertville, NJ and New Hope, PA, providing a peaceful, scenic viewing of one of New Jersey's prettiest spots. 
Stony Lake Trail : Sussex County
Stony Lake Trail is a very simple loop trail that only spans 1.1 miles, so the average individual could complete this hike fairly quickly. With limited to no elevation changes, this hike is for the individual that just wants to get a bit of exercise outdoors and enjoy some beautiful scenery around a quaint lake. Some visitors warn you to be careful because it is a very rocky path, so make sure to bring some good walking or hiking shoes.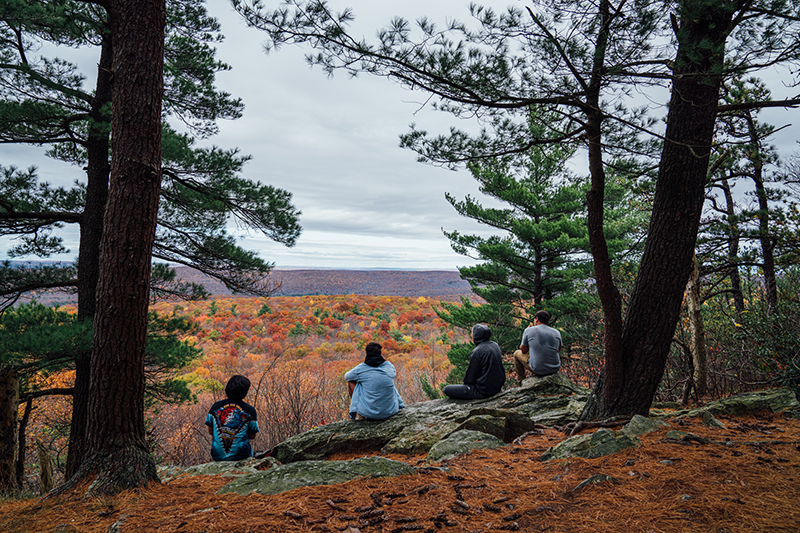 Moderate trails 
Hemlock Falls Trail via Lenape, Rahway, and River Trail : Essex County
Located in South Mountain Reservation, this is one of the best hiking trails in NJ for its stunning waterfall views. Spanning 5.6 miles in total, Hemlock Falls Trail is optimal in the fall to see the full beauty of the waterfall and the best conditions. Either way, just the excitement alone of knowing that one is hiking toward a waterfall is reason enough to come here for a day, but the trail itself provides enjoyment and fun. Due to the gradual elevation change, expect some moderate exercise, but that just makes the feeling of getting to the waterfall at the end more worth it. There's also a shorter route available that goes straight to the waterfall if that is better suited to one's needs.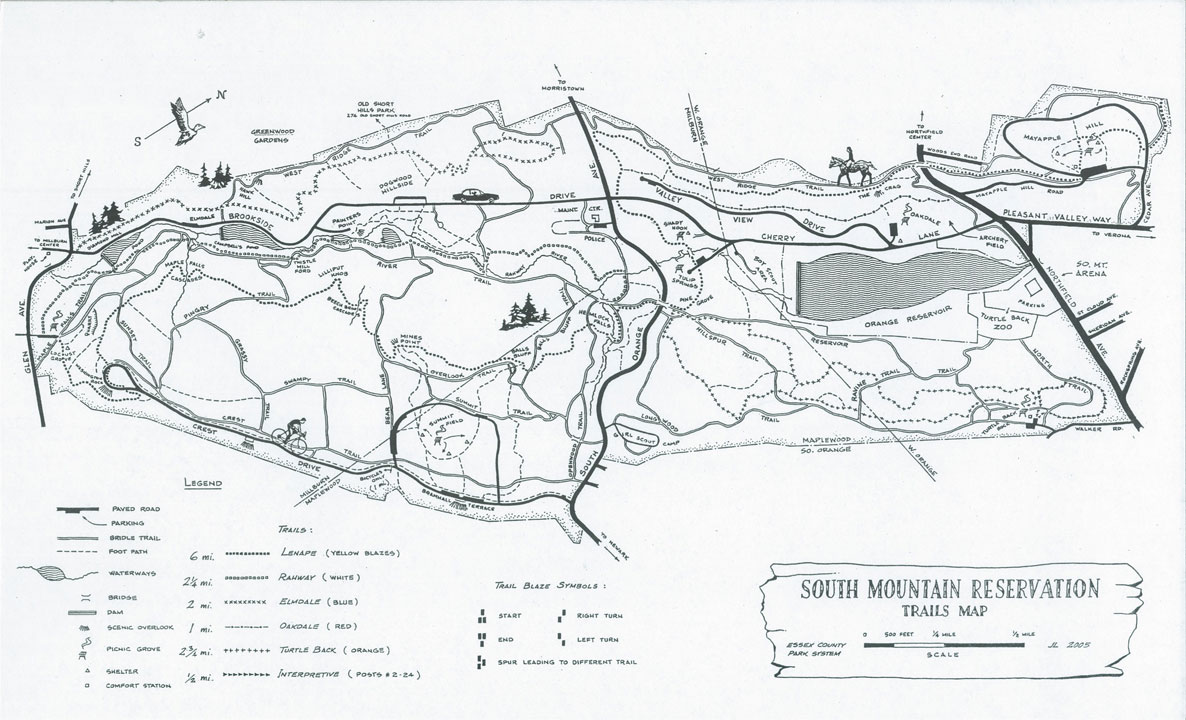 Stairway to Heaven- Appalachian Trail : Sussex County
Head out to Wawayonda State Park to explore the Stairway to Heaven Trail. This hike is definitely worth your time if you are looking for hiking with beautiful views that will give you a workout. A moderate-to-difficult hike, there are easier options in the area for someone not exactly up for the challenge, but still looking to get a great walk in the woods. If you wish, you can take the Pochuk boardwalk instead, 1.5 miles total in length leading to a suspension bridge. End your hike on the suspension bridge overlooking Wawayonda mountain or choose to continue on the path of the bridge toward the entryway to the hike. Take the trail leading you toward Pin Wheel Vista, one of New Jersey's most famous outlooks, and enjoy a 7.3-mile roundtrip, intensive but beautiful hike. 

Pyramid Mountain- Tripod Rock, Bear Rock, Whale Head Rock: Morris County
Pyramid Mountain County Natural Historic Area features over 1,675 acres of natural beauty, but one fulfilling day trip will suffice with this 5.6-mile loop to see the area's main features and historic past. This rocky trail takes the avid hiker through a few key rock formations including Tripod Rock, Bear Rock, and Whale Head Rock, which have been deposited from the Wisconsin Glacier, over 18,000 years ago. Expect beautiful views when surmounting the 780-foot elevation gain, but expect to feel rewarded afterward and glad you checked it out.
More Difficult trails
Mount Tammany Red Dot/ Pahaquarry Blue Trails: Warren County
Mount Tammany is a beautiful mountain in the summer and winter. The summer features beautiful waterfalls and scenery, while in the winter, the trails tend to get more icy and challenging, but the hike is rewarding and worth doing nonetheless. At Mount Tammany, there are two main trails entitled the Red Dot and Pahaquarry Blue trails. Take either one up/down or combine the trail so that one is taken on the ascent and the other during the descent. May we suggest taking the Red Dot up and Pahaquarry Blue down, due to scrambling on the descent of the Red Dot.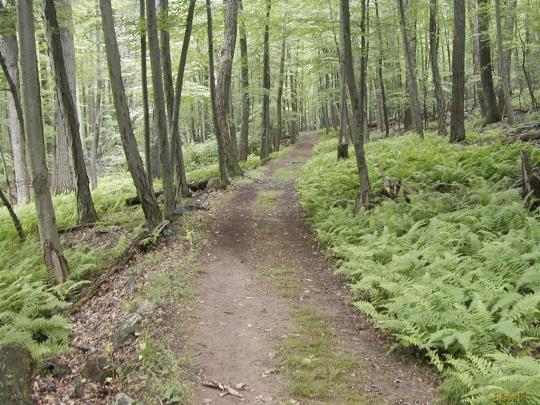 Buttermilk Falls and Crater Lake Loop Trail: Sussex County
This trail is the one to do if you're looking for a pretty waterfall, a beautiful lake, a scenic viewpoint, relatively difficult, lengthy climb of 6.8 miles. In terms of nature, this trail has it all. Closed in the winter, one can look forward to coming here in the spring/summer. Climb the Buttermilk Falls trail to reach the tallest waterfall in New Jersey; it is a steep uphill climb but the beauty will be worth it. Turn south and hike the Crater Lake Loop trail, a beautiful lake that formed from the prehistoric Wisconsin glacier and is an area of peaceful recreation to this day. This area also offers the Hemlock Pond Trail for those looking to lengthen their hike.
Did you enjoy reading about the best hiking trails in NJ? Click here to learn about other outdoor budget-friendly/free activities in New Jersey.