Chateau Grande Hotel
Built in 2019 and located in East Brunswick NJ, Chateau Grande Hotel is described as a hidden gem that is taking its roots firmly in the fabric and heart of Jersey society.  Chateau Grande provides the ultimate trifecta for anyone looking for a getaway, an event space, immaculate dining, or hosting a business meeting. Spanning fifteen acres across all of East Brunswick, the hotel was built with the inspiration of classical French architecture embedded with American design, providing its guests with a certain grandeur and novelty. Featuring five-star accommodations with a fitness center, indoor pool, private parking, and 24-hour front desk, this beautiful location is sure to please and keep guests coming back.
At the Chateau Grande, guests are invited to stay in either a double queen, single king room, or single king superior. As per their website, all their rooms are designed so that "grandeur and intimacy co-exist." These rooms are decorated with chandeliers, sitting ottomans and chairs, individually lit makeup mirror, personal safes & refrigerators, and high-definition television and Wi-Fi.
The hotel also tailors suites specifically for brides, although all are invited to reserve the suite if they so desire. For example, the Grande Cru and Crystal are balcony suites with 950 square feet of indoor space and 450 square feet of veranda space, allowing guests to host parties, bask outdoors, and view the sunset. The balcony suites include king beds with master baths, dining room tables, bath, and a kitchenette with refrigerator and microwave. The Antoinette is another bridal suite with full amenities.  These rooms come equipped with well-lit salon stations, allowing for the beautiful brides to make sure everything is perfect on their special day.
The Grande Chateau hosts both small and large weddings in the Angelique ballroom and Grande Event Room. The Angelique features a colossal crystal chandelier with sprawling, oversized windows overlooking the pastoral grounds of the property. It can host up to 125 people that catered by celebrity chef partner David Burke. The hotel also features prominent business venues, including the Bordeaux boardroom for meetings and large format speaking venues to break out meeting rooms.
David Burke is an American award-winning chef known for appearing on the reality television show Iron Chef America. His ventures as a chef extend themselves into entrepreneurship, and partnering with Chateau Grande Hotel, his restaurant Orchard Park is a premier and select destination for those living in New Jersey and neighboring  tri-state areas. 
Orchard Park is a full service restaurant, bar, and lounge. The Orchard terrace is open when the weather is permitting, featuring happy hour all night and live music. The C'est La Vie Bar and Lounge also features happy hour at varying times, so make sure to check ahead of time.
At Orchard Park, the ambiance and atmosphere are truly phenomenal. Orchard Park has won the interior design restaurant award for fine dining by LIV Hospitality. The modern and contemporary design is created by the circular tables, allowing all patrons to face each other and engage in intimate conversation, as well as the overhead lighting fixtures. The open-kitchen concept allows patrons to witness the chefs hard at work. The restaurant also features a 1500 bottle wine room and pink Himalayan salt brick wall hovering over a grandiose dining table, contributing to the immaculate vibe. 
Orchard Park's menus feature inventive dishes for dinner, burger night, date night, Taco Tuesday, and brunch. Choose from dishes like the tuna tartare parfait, lobster dumplings, top hat oysters, and baby kale and romaine Caesar.  With Butternut Squash Ravioli as a hit for vegetarians, and Shrimp Scampi pizza for seafood lovers, the pizza and pasta options are unique and plentiful. For the meat eaters, there is an extensive variety of main courses, however, the clothesline bacon appetizer is a beloved fan favorite. Those with a heavier palette will be delighted with the signature DB Salt Aged Beef dishes, including an assortment of high-end steaks. If you're still hungry, the specialty sides are a necessity. With options ranging from Angry Broccoli to the Vanilla Bean Sweet Potatoes, you're sure to have an entirely new culinary experience. Don't fret if you're not into commitment, the Hipster Fries and two different Mac and Cheese dishes are available for "Tableshare," meaning you can have a taste and pass it to the left.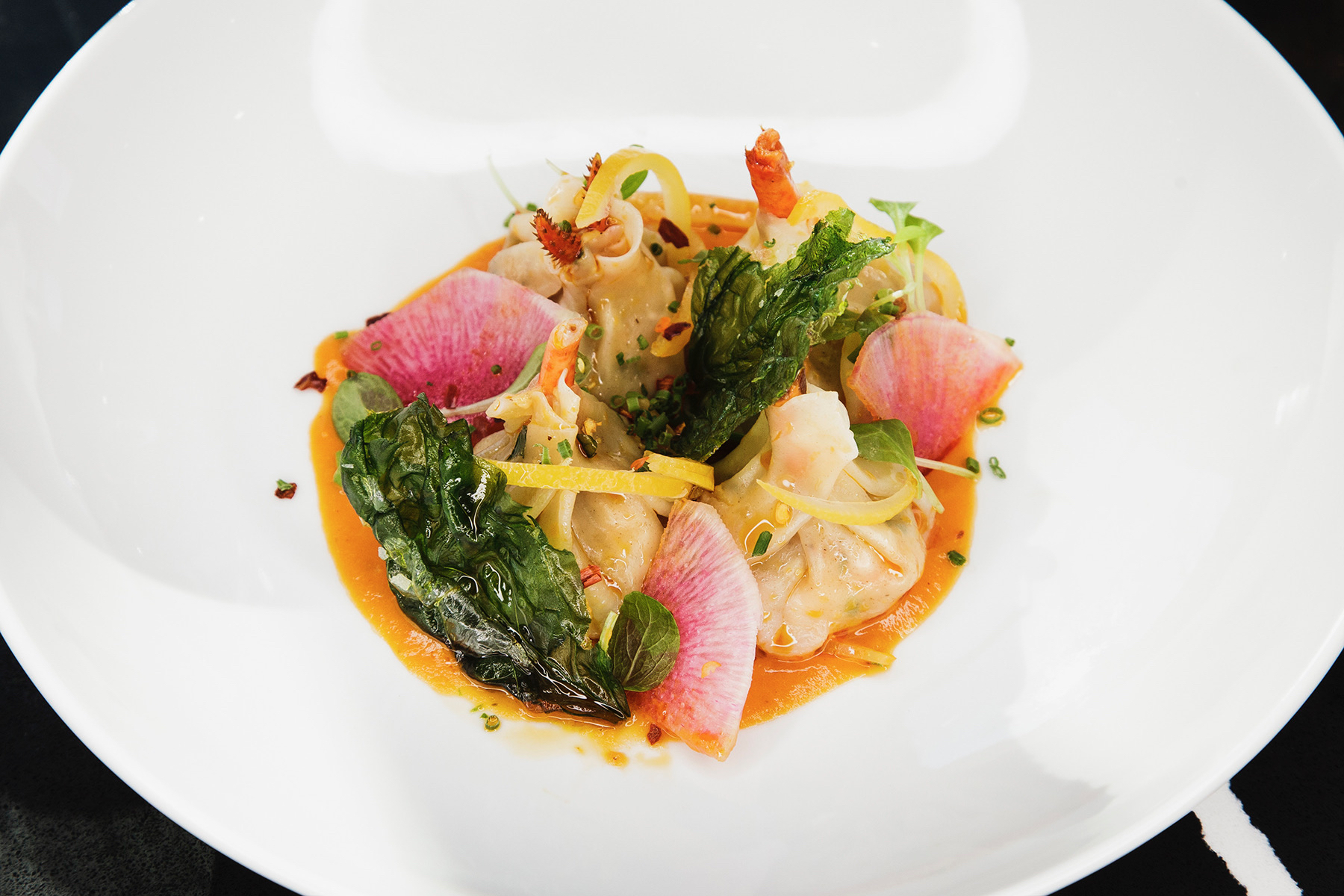 Park Chateau Estate and Gardens 
Park Chateau, Chateau Grande's sister property, is a decadent event hall, wedding venue, and corporate space that compliments the hotel perfectly. It sits on top of trimmed and polished gardens that compliment the property and highlight its best features. The gardens allow for majestic outdoor ceremonies for whenever the weather permits and beautiful professional pictures with photographers. These ceremonies can be held amongst the lily pond on the property  or the white chapel featured on the estate with huge ceilings and luxurious wooden accents that allow for both the wedding service and reception to be held on-grounds. 
If outdoor ceremonies are not your thing, the grandeur of Park Chateau continues indoors. Similar to the Angelique ballroom at the hotel, this ballroom features white and gold elegant décor reminiscent of the Regency period of 1813, with crystal chandeliers and a large dance floor.  In total, the ballroom fits up to 400 guests, allowing for larger parties to be hosted here than at the Chateau Grande.
Guests can book the balcony and lounge suites with an attendant before their wedding reception in order to relax and prepare before the events start. These are very popular among bridal parties, with fully equipped salon stations and seating areas, with opulent doors that lead out onto the terrace.
At the Park Chateau, guests can also enjoy the living room and grand hallway on the property, which are quiet but grand seating areas with a fireplace and table area. 
The Chateau properties all partner with chef David Burke's catering, so the level of professionalism and quality for food and drink service is unmatched in comparison to typical wedding venues. Cocktail hour features a five hour premium bar with premium spirits, fine wines, champagne, and beer and liqueurs. The cocktail menu includes a cold display with fruit, vegetables, sushi, and cheeses. Canapes and hors d'oeuvres range from crab cake, escargot, mini lobster rolls, and sandwiches and salads. Guests can also chose between chafing dishes and four selections from the estate chef stations, like the Jersey Boardwalk and Lobster Mac N Cheese stations.
For ease and convenience, the Park Chateau also features complimentary uniformed valet parking, hostess, coatroom, designer stemware and silverware, place cards, and custom printed menus.
If you liked learning about the Chateau Grande Hotel, check out the luxurious Reeds at Shelter Haven.