FlyNYON, a premier helicopter ride service based out of Kearny, offers customers a stunning visual experience from above NYC.
Why choose to fly?
You have not truly experienced the Empire State until you have seen it from above. People know the Big Apple for its iconic skyscrapers, shining billboards, and the Statue of Liberty. Now, FlyNYON helicopter photo flights have made New York City completely accessible by sky.
At FlyNyon, "the sky is not the limit; it's the office." With FlyNYON helicopter rides, you can finally see all of Manhattan from above. The company was founded by aviation experts with over 101 years of combined experience in the helicopter industry. FlyNYON offers a wide range of options sure to please everyone. There is an option for everyone, from professional photographers to iPhone amateurs hoping to liven up their Snapchat story.
A Forward-Thinking Business Model

Since opening in 2012, FlyNYON has flown over 450,000 passengers on the adventure of a lifetime. As a result, they have made professional aerial photography accessible to everyone in the tri-state area.
A large part of their success stems from the innovative mind of CEO & Founder, Patrick K. Day. Day is a third generation military veteran and aviator. He has taken his expertise in the aviation industry and fused it with twenty-first century business strategies.
Firstly, FlyNYON understands the importance of social media in modern business. They also understand customers are looking for uniqueness and originality on social media sites.
Their commitment to originality has contributed to their wild success. Since their establishment in 2012, their online presence has gained a following of close to 1.4 million. They have followers across Instagram, Facebook, Twitter, and Snapchat.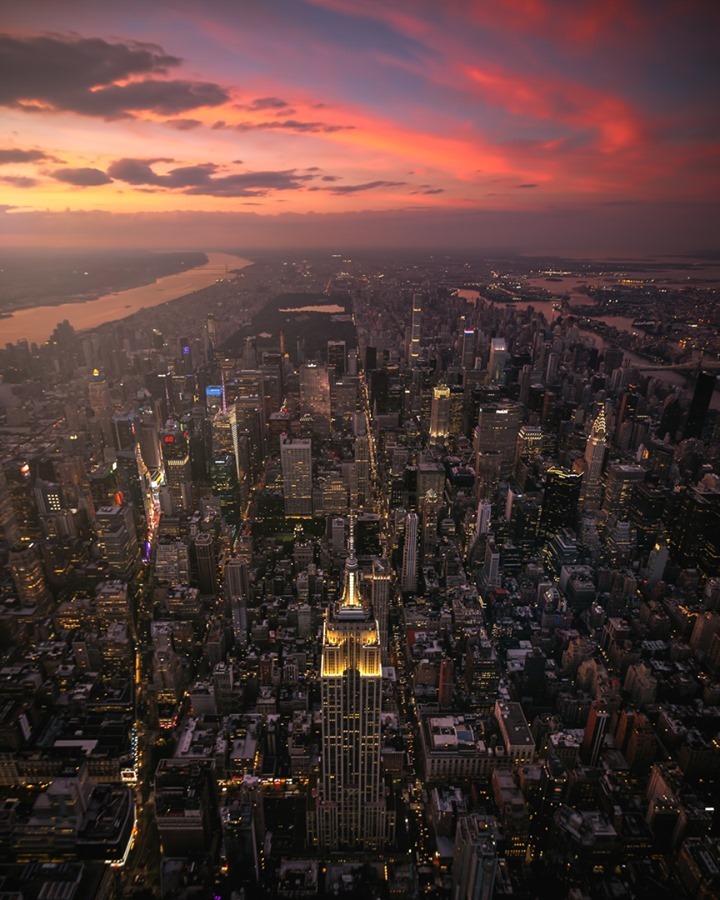 Secondly, FlyNYON recognizes that today's customers are looking for more than just a helicopter ride. Customers are looking for a different experience; they want exciting photos to share on their social platforms. FlyNYON organically provides this service.
This is why they choose to reach customers through word-of-mouth advertising and by working with influencers. They have done away with "the middleman" and have decided to market themselves directly to consumers on all their platforms. They take pride in being able to engage with their customers. In doing so, FlyNYON provides their customers with a unique product without any of the ridiculous upcharges that come with traditional aerial tourism.
A Personal Experience
At FlyNYON, your flight is entirely unique to you. You can customize almost every detail of your flight. Therefore, passengers looking for relaxation might opt for a "closed-door" ride. At the same time, passengers who like to live on the edge might prefer the "open door" flight.
The open door helicopter flight option gives you both an exciting sense of freedom as well as unobstructed photo opportunities. Nervous? Don't be! You will always be safely tethered inside the helicopter with FlyNyon's 8-point safety harness system.
FlyNYON has a very personal approach to business. You have the opportunity to speak with the pilot to design your flight around what you want to see. If you have ever dreamt of seeing the Statue of Liberty or Central Park from the heavens, now is the time to fulfill that dream.
Very few companies take so much value in the experience of their customers. FlyNYON considers each visitor who arrives at the terminal to be a part of the family. The inclusive feeling begins the moment you enter their 10,000 square art terminal.
The luxurious space has both a cafe and a lounge seating area. The company specifically designed the terminal to maximize the comfort of the customer. It also provides a casual space for the FlyNyon associates to meet and establish relationships with customers before the flight.
CEO Patrick Day envisioned the terminal to serve as an opportunity to introduce visitors to the world of helicopter rides. Customers receive a hands-on lesson about the helicopter industry prior to their flight.
Some of the features are helicopter mockups and a visible operations center. Other attractions include their "shoeselfie station." Here guests can sit in a grounded helicopter and see a virtual projection of the city beneath them. Guests are also invited to preview their aerial experience in the terminal's virtual reality room!
Emphasis on Safety and Fun
FlyNYON has far surpassed its competitors in the evolving world of technology. Their in-house web development team has strategized the booking process to be efficiently streamlined from start to finish. Their software allows them to use specific technology to maximize seat capacity for every ride effectively. In turn, FlyNYON can increase each customer's level of comfort and enjoyment.
Their flight management software can keep their business growing without any significant effects on their balance sheets.
FlyNYON has all the resources to transform the helicopter tourism industry completely. Armed with an impressive fleet of Bell 206 L3 and L4 turbine helicopters, this company is committed to your safety. The luxurious ride and visibility from the sky are just the cherry on top.
FlyNYON has proven time and time again that they are actively engaged in your safety. They were the recipient of the 2017 Eastern Regional Helicopter Council Safety Award for unwavering commitment to ground and flight safety. Every aircraft sticks to the strict standards of the Federal Aviation Administration (FAA). FlyNYON Pilots receive both annual factory training as well as a yearly FAA check ride.
When flying with FlyNYON, your only worry will be deciding which fabulous photo you should post to your Instagram feed. FlyNYON has one goal with every flight: to bring the beauty of aerial visions to the masses. No two flights are ever the same. So get your camera (or rent one from FlyNYON's terminal) and prepare for a picture-perfect photo experience.
Interested in learning more about FlyNYON? Check out another's writers experience here.